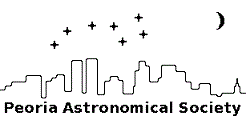 Current sky conditions for Peoria, IL:

Recognition
---
Bruce Brown - Northmoor Observatory Renovation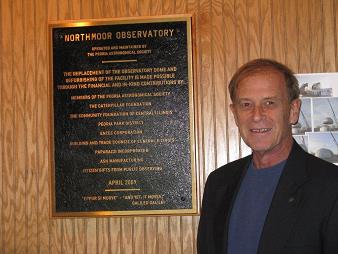 Peoria Astronomical Society member, Bruce Brown, is pictured beside the rededication plaque of April 2009 that bears recognition to the major contributors to the funding of the renovation of Northmoor Observatory. The contributing companies and organizations are listed on the plaque. The third from the bottom, Paparazzi Incorporated, is the restaurant that is owned and operated by Bruce.
It was Bruce's enthusiasm for the observatory's renovation program that put a "spark" into the fund-raising that gathered many of those listed contributing groups to get excited about it too. Bruce said during my meeting with him on his participation in the fund-raising that it was his most exciting fund-raising adventure.
Nothing succeeds without enthusiasm. Thanks, Bruce, for your enthusiasm.
Rich Tennis, President
Peoria Astronomical Society
---
John Barra - achieves Astronomical League's "Master Observer Award" !
As As evidence of John's expertise, it is our great privilege to award the ultimate in observing awards to him at our March 7th meeting. John has earned the Astronomical League's "Master Observer Award". He is only the 123rd recipient of this honor. To earn this award, John earned the following observing awards: Messier Club, Binocular Messier Club, Lunar Club, Double Star Club, Herschel Club, Lunar ll Award, Globular Cluster Award, Open Cluster Award (advanced), Deep Sky binocular Awards, and Urban Sky Award. In total John had to locate and record, 1,095 celestial objects. To make all this even more impressive, he did it all by star-hopping.
Congratulations John!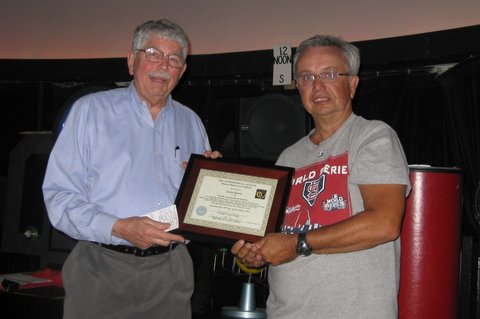 John Barra (right) receives Master Observer Award, presented by Rich Tennis (left).
---

Visit us on Facebook Peoria Astronomical Society, PO Box 10111, Peoria, IL 61612-0111 Revision: 7/1/2016
Please report issues with this page to the website manager.