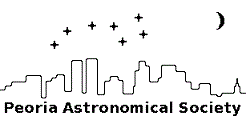 Current sky conditions for Peoria, IL:

Northmoor Observatory Renovation
---
A photo collage of the installation of new dome completed March 2009.
Thanks to the amazing efforts of PAS members and community volunteers, the Northmoor Observatory has a new dome.
Our gratitude goes out to Rich and Margo Tennis for their fund raising efforts in making the dome a reality.
A special thanks to Terry Beachler and Ash Dome personnel for all their help in getting the dome installed.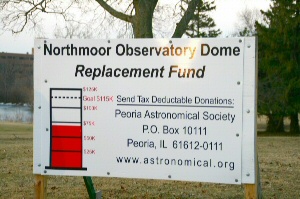 Our Thanks to the many volunteers who made the new dome possible.
Don Howerter of ENTEC
N. E. Finch
Caterpillar, Inc.
Apprentices from the local Steamfitters
Peoria Park District
Apprentices from Ironworkers Local 112
Ash Dome personnel
PAS members and volunteers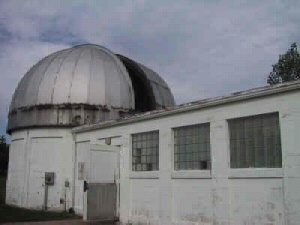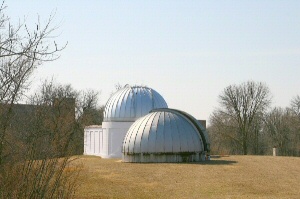 Winter 2008
Evaluation
Dome Inspection
Birds, Rust, and lack of quality electronics were big motivators in renovating the Northmoor Observatory.
It took the efforts of many volunteers, years of fundraising, and member support to finally get the new dome.  Drive down Sheridan Rd. and you can see the shiny, new dome.  What a Glorious site it is!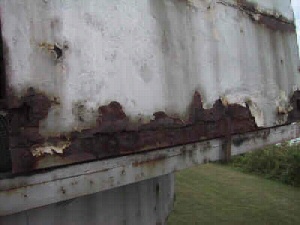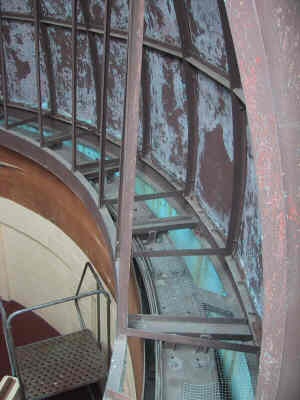 The old dome was 9,000 lbs of steel. It was operated by pulleys and man power. The new aluminum-clad dome is 20 feet, 6 inches in diameter and weighs 4400 pounds with an entirely mechanical door mechanism.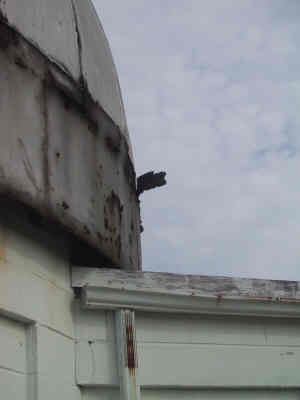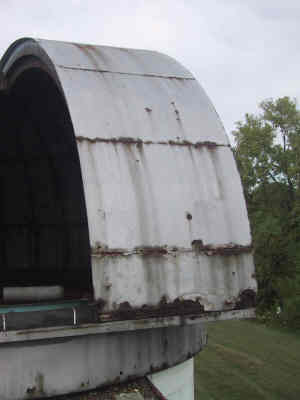 January 23, 2009
Ash Manufacturing Company
Peoria Astronomical Society members Rich Tennis and Terry Beachler visited ASH Manufacturing Company in Plainfield, IL on Friday, January 23.
The purpose of the visit was to inspect the rotating dome being built for the Northmoor Observatory
Renovation Project and to make arrangements for delivery to the Observatory site on Donovan Golf Course.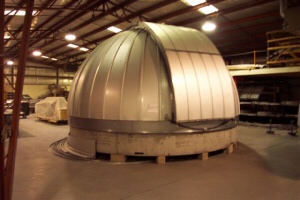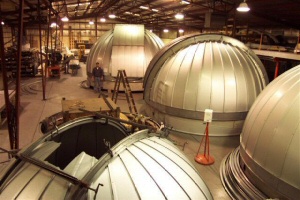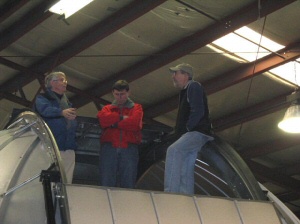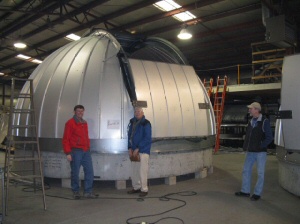 Terry Beachler, PAS Construction Coordinator; Rich Tennis, PAS Chairman of fundraising for the Project; Bruce Marshall, ASH Dome field Supervisor.
Bruce is a member of the team who brought the dome to Peoria and assisted with the assembly and placement.
February 25, 2009
The Big Lift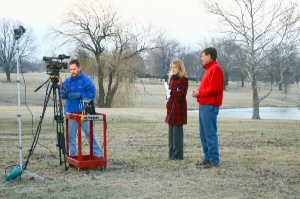 Local news media covered the events.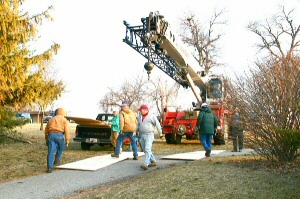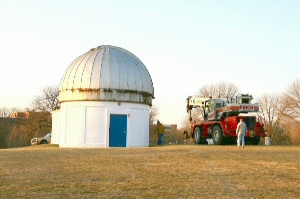 The 40 ton Crane arrived at 7:00am.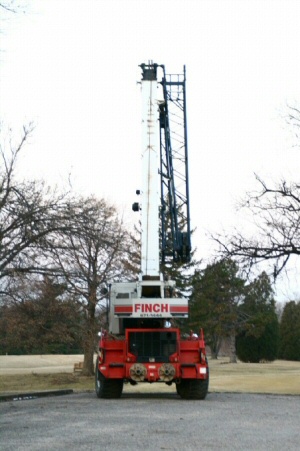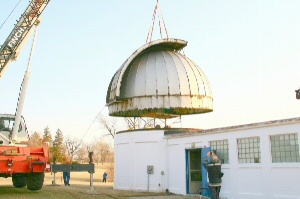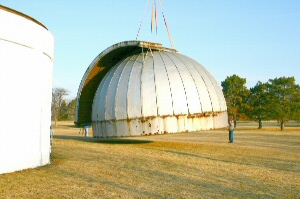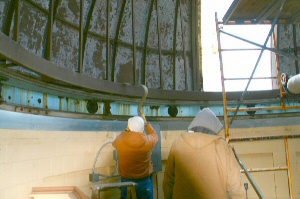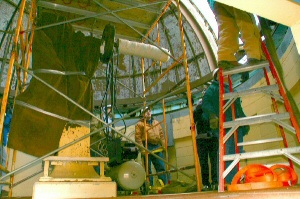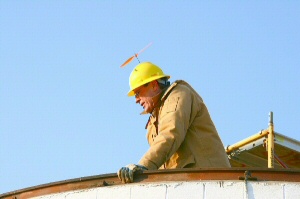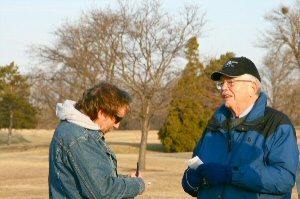 March 3, 2009
Installation Day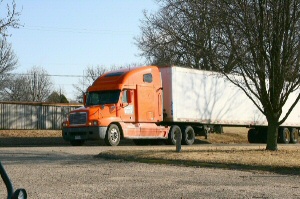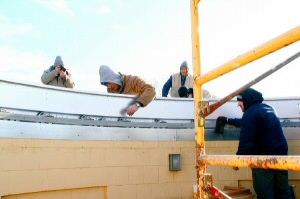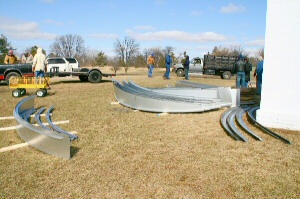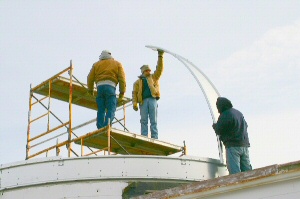 The first piece is in place!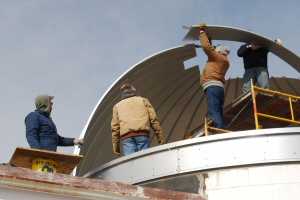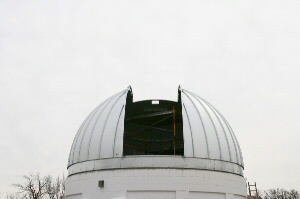 The end of a very productive first day!
March 3, 2009
Completion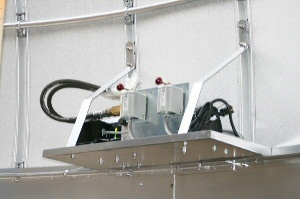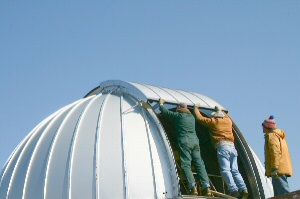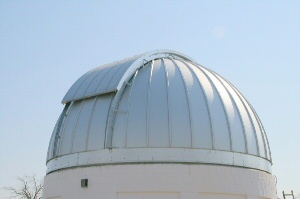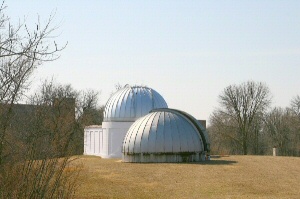 We look forward to returning the telescope to it's renovated home and welcoming many guests through the Observatory doors.
The observatory is open to the public beginning the first Saturday in May, weather permitting until the end of October.
---

Visit us on Facebook Peoria Astronomical Society, PO Box 10111, Peoria, IL 61612-0111 Revision: 7/1/2016
Please report issues with this page to the website manager.