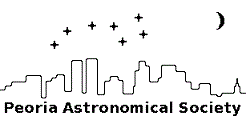 Current sky conditions for Peoria, IL:

Meetings
---
Our regular meetings are on the first Wednesday of each month, at 7:30 pm. We meet at the planetarium in the new museum in downtown Peoria, IL. (Parking details below.)
The members meeting is a great place to meet other members, swap stories, and learn more about astronomy. The meetings are always free and open to the public.
Note: During the summer months (June, July, and August), we do not hold regular meetings. Instead we plan a star party event each month!
In September, we have our Annual Banquet, which takes the place of our September monthly meeting.
For the meeting schedule, updates, and detailed meeting information, please check the PAS calendar or Starlite newsletter.
Our board meetings are held on the third Wednesday of each month at the Hardee's in the Northpoint Shopping Plaza on Knoxville Ave at 7:30 pm, and are open to all PAS members.
Parking at Peoria Riverfront Museum Planetarium:
If you park on the Washington Street side of the museum, come in the front entrance, then go down the hallway to the left; the planetarium is at the end of that hallway.
You can also park in the deck beneath the museum, which you enter from Water Street.
Identify yourself as a PAS member here for the meeting, but should not have a problem after hours.
Parking along the street at a meter should be free after 6:00pm.
If you park on the Water Street side (along the street, in the deck beneath the restaurants, or in the lot next to Martinis), come in through the parking deck beneath the museum.
Enter the museum through the double doors at the far left side of the parking deck. At the end of the hallway there are stairs and an elevator. Come up to the second floor and walk down the hallway to the planetarium.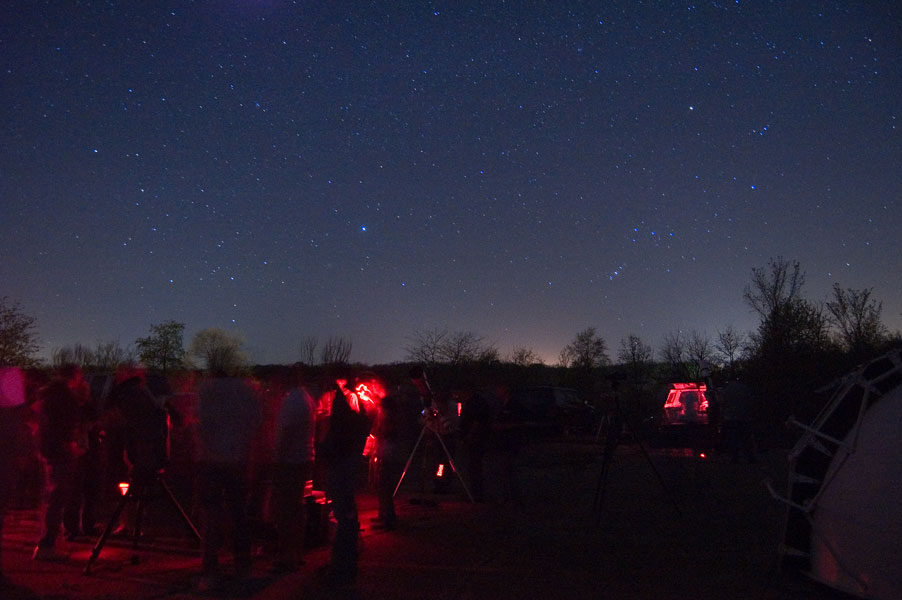 ICC students at a star party hosted by the PAS
---

Visit us on Facebook Peoria Astronomical Society, PO Box 10111, Peoria, IL 61612-0111 Revision: 7/1/2016
Please report issues with this page to the website manager.