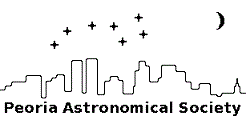 Current sky conditions for Peoria, IL:

Welcome to the Peoria Astronomical Society!
---
The Peoria Astronomical Society is a non-profit organization of amateur astronomers from Peoria, Illinois and the surrounding community.
Meetings
We meet on the first Wednesday of each month, at 7:30 pm at the Planetarium in downtown Peoria, IL. (Parking info here).
The members' meeting is a great place to meet other members, swap stories, and learn more about astronomy. The meetings are always free and open to the public.
Bill Kurth; University of Iowa Format: Live Video Conference Presentation
During the summer months (June, July, and August), we do not hold regular meetings. Instead we plan a star party event each month!
In September, we have our Annual Banquet, which takes the place of our September monthly meeting.
Board Meetings: Our board meetings are held on the third Wednesday of each month at the Hardee's in the Northpoint Shopping Plaza at 7:30 pm, and is open to all PAS members.
Observatories
The Peoria Astronomical Society maintains two observatories.
Northmoor Observatory is open to the public every cloudless Saturday night from the beginning of May through the end of October. You will find volunteers on hand to aid you in your discovery of the cosmos, from sunset until midnight. Private groups can also be scheduled any other time. Contact the Northmoor Observatory chairman for more information. Northmoor observatory has a brand new dome! Click here to read all about it!
Jubilee Observatory can be scheduled by any group almost any time. Please contact the Jubilee Observatory Chairman for more information.
We also have a variety of "loaner" telescopes available for members to use.
Membership
Membership to the Peoria Astronomical Society is open to anyone with an interest in astronomy. We are a family oriented club and sponsor various activities throughout the year to encourage family involvement. Annual dues are $30.00 per family per year. Benefits of membership include:
Subscription to our newsletter "The StarLite"
Membership in the Astronomical League
Subscription to the Astronomical League's newsletter, "The Reflector"
Membership in the Peoria Academy of Science
Use of the society's numerous telescopes
Members may become keyholders to any of our observatories
The option to join the PAS email list
Fellowship with other amateur astronomers and others whose eyes are turned to the stars!
Interested in joining? Simply download the printable membership application and mail it in!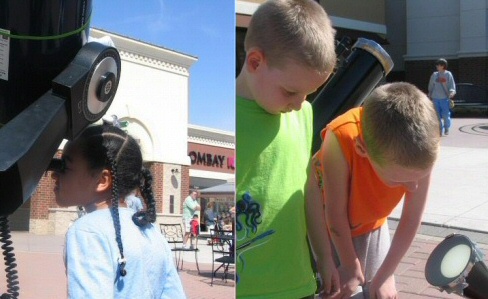 The PAS set up solar telescope viewing at the Grand Prairie Mall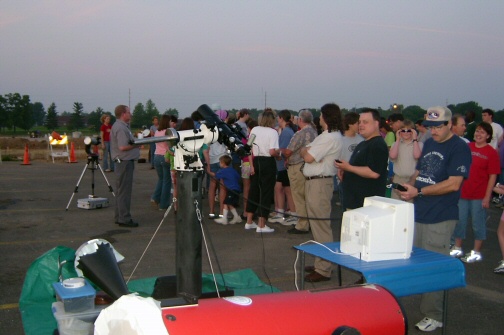 a pre-dawn crowd gathers at ICC to witness the rare occurance of Venus transiting the sun
Awards and Recognition
View the club Awards and Recognition Page
More Information
View the club By Laws
For more information, contact us by email or write to us at:
Peoria Astronomical Society
PO Box 10111
Peoria, IL 61612-0111

Visit us on Facebook