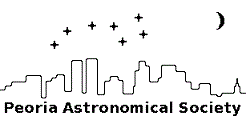 Current sky conditions for Peoria, IL:

Welcome to the Peoria Astronomical Society!
---
The Peoria Astronomical Society is a non-profit organization of amateur astronomers from Peoria, Illinois and the surrounding community.

The PAS is very active, and we always have something exciting going on at least once a month.

Check out the Club Activities page for general information on telescope viewing, events, and public meetings.
Artwork Title: "Look to the Stars" (2015)

By: Doug and Eileen Leunig
http://PurposeDrivenArt.org

Image preview available in the "Gathering Light" Portfolio.

Location: 316 SW Washington St, Peoria, IL
The light painting is displayed on the West side of the MAXAM Building
Corner of SW Washington and Liberty St in Downtown Peoria
Just across Liberty St from the River Front Museum

Description:
"Look to the Stars" a light painting by Doug and Eileen Leunig, is a symbolic of the quest to know the unknowable. People have looked beyond themselves for centuries to find the answers to the questions about their lives and our universe. "Look to the Stars" represents the desire to explore, to discover, and to achieve the unreachable.

Artistic mural made possible through generous contributions by:

MAXAM Building Occupants
CSE Software Inc.
Hall, Rustom and Fritz, LLC & The Law Office of Jeff Green
MAXAM Quarters Condominiums
The Waterhouse Banquet and Catering Facility


Dedicated to the Peoria Astronomical Society
The light painting depicts NorthMoor Observatory and its historic 9-inch refracting telescope. Illinois' very first public observatory, located in Donovan Park in Peoria, has been open for free public viewing on Saturday nights since 1955.

Contributions to the Peoria Astronomical Society for educational programs are welcome and very much appreciated. (Please mail all checks to the address listed below)

The 14-foot by 40-foot mural, featuring the NorthMoor 9-inch Refractor and PAS Honorary Member, Bill Cole, was created by paint-with-light artists Doug and Eileen Leunig.

The many residents of the MAXAM building have graciously underwritten the cost of the printing and installation of the artwork on their building.

Dedicated June 29, 2015
2015 - Northmoor Host Schedule (Download PDF)
For events and weather go/no-go cancellations, check out our Calendar.
More Information
View the club By Laws
For more information, contact us by email or write to us at:
Peoria Astronomical Society
PO Box 10111
Peoria, IL 61612-0111

Visit us on Facebook