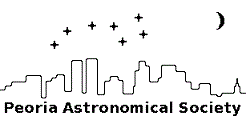 Current sky conditions for Peoria, IL:

Welcome to the Peoria Astronomical Society!
---
The Peoria Astronomical Society is a non-profit organization of amateur astronomers from Peoria, Illinois and the surrounding community.

The PAS is very active, and we always have something exciting going on at least once a month.

Check out the Club Activities page for general information on telescope viewing, events, and public meetings.
2015 - Northmoor Host Schedule (Download PDF)
For events and weather go/no-go cancellations, check out our Calendar.
Jupiter/Venus half degree conjunction
Just a note, pay attention to Jupiter and Venus over the next month. By the end of June, they will be within a half degree of each other. Keep watching each night as they converge on each other!

If you're the type that likes photography, night time planetary conjunctions can be easily recorded. Just aim towards the same star each night, and take a picture. For brighter stars, you may need to experiment with Exposure, F-Stop, and ISO settings in manual mode. When you're done, arrange the photos in a slideshow!


Airport Star Party!
Date: Saturday June 13, 2015
Location: Hartenbower Hectares Airport, N 17th Rd, Lostant, IL 61334 41.176840,-89.146652 (map)
Time: Arrive before or near sunset.

Description:
The Peoria Astronomical Society is having a star party on Saturday June 13, 2015.
The location of the star party is Hartenbower Hectares Airport located just east of Mc Nabb on 81 N. 17th Road.
The airport has many amenities including: Indoor plumbing, a warming room, electricity.
On Sunday morning of the 14th there is a breakfast fly-in scheduled. The breakfast will take place no matter what is happening with the weather. For a small fee you can partake in the all you can eat breakfast.
The number of airplanes that fly -in is weather dependent. Many people choose to drive to the Hartenbower Hectares Airport just for the breakfast.
Camping will be available for Astronomers wishing to spend the night at the airport.
To insure that we have enough camp sites available; attendees wishing to camp over night are requested to RVSP to Brandt Bechtold at bbb913@aol.com. Camping is free.
More Information
View the club By Laws
For more information, contact us by email or write to us at:
Peoria Astronomical Society
PO Box 10111
Peoria, IL 61612-0111

Visit us on Facebook